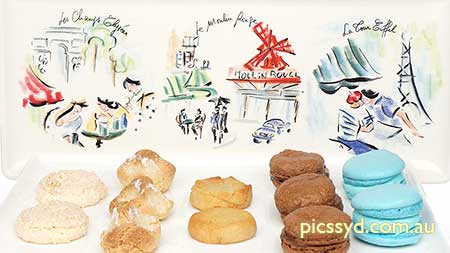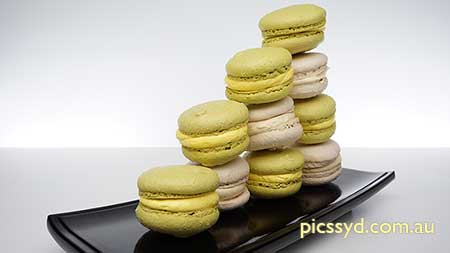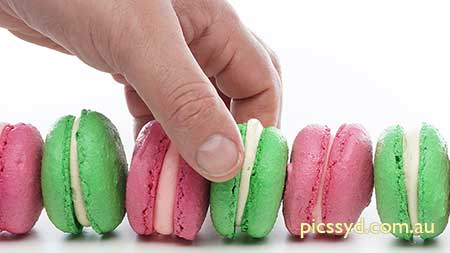 During this macaron practical hand's on class, you will learn all about the history of those popular tasty sweet, from their humble beginning in Italy to the more elaborated French creations. We will teach you all the steps on how to make macarons from fresh ingredients. A recipe booklet with all recipes is included for every participant.
The 2.5 hours practical class will show you how to create those lovely little pastry at home, from Italian Rum macaron to the historical Macaron of Nancy, we will also make berry Macaron with French meringue (with a butter cream filling) as well American orange macaroons (with Swiss meringue) will also be made.
Of courses all of those lovely macarons will be tasted during the class and you will also take some of those macarons home with you at the conclusion of the class
You will be given the opportunity to purchase equipments (at wholesale price) required to make those tasty Macarons at home (piping bag, nozzle, silicon spoon and spatula, silicone mats, sugar thermometer, timer, baking trays, alignment macaron mat and more).
Cost per person for all this is $ 90.00
programme:
not suitable
Customers who are allergic to almond.
Current Schedules:
May 2018 schedules
Full
Macaron Making
11.30AM - 2pm
Saturday 26th May
Event code:
182MZ
($90 per person)
(This class is full, please choose another time)
more schedules will be available when closer to the date.
We will publish more dates. Please redeem your voucher as soon as possible.
We will be taking a short break during July.
There will be Macaron Making classes until 26 June, and classes will resume from 6 August. All vouchers with expiry date during this period can be redeemed in August or later. Thank you.
More dates of Macaron Making 2 1/2-hour Class will be announced.
Each participant will receive a recipe booklet and complimentary macarons to take home.
The maximum number of guests for Macaron Making Class is 10. Minimum number for each Cooking Class is 4. If the particular Macaron Making Class does not reach the minimum required number to run the Class, we will contact you and arrange a different date.
Booking
(at least two days in advance)
is essential.
not suitable
Macaron is not recommended for customers who are allergic to almond.
enrolment
To claim your OurDeal and Groupon deals: we need the OurDeal and Groupon redemption code (alphanumerical). If you do not have a OurDeal or Groupon voucher, you can contact us if you wish to purchase directly from us.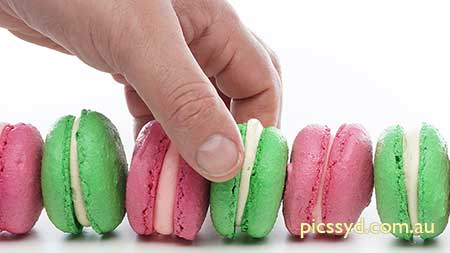 Contact Us if you have any enquiries about this 2 1/2hr Macaron Making Class.
macarOn or macarOOn?
Okay, "
macaron
" is not "
macaroon
", they are different. Albeit many shops misspelt the name when they actually sell "
macaron
s." Please see
Macaron vs Macaroon
page for the difference.
looking for more?
If you would like to learn more about making macarons. We offer
fully practical hands-on
Macaron Workshops in both
Beginner's
and
Advanced Levels
covering many different types of macarons:
Macaron & Choux Workshop
(beginner's level, 5 hours)
Macaron & Filling I Workshop
(advanced level 1, 6 hours)
Macaron & Filling II Workshop
(advanced level 2, 6 hours)
BTW, what we make and sell are called "
macaron
s" not "
macaroon
s". Albeit many shops misspelt the name when they actually sell "
macaron
s." There's a difference between
macaron
s and
macaroon
s.
If you would like us to run Cooking Parties at your place, simply
contact us
.
want to buy macarons from us?
We
sell macarons
directly to the public. We offer a
different flavour each week
.
For regular cooking classes and weekend workshops, please refer to:


Term 2
2018
Cooking Classes timetable
is now available online. We are now taking enrolments for Term 2 2018. Please see our
Cooking Classes Section
for more information. (
Term 4
2018
starts on Monday 30th April 2018.)


Term 2
2018
Weekend Workshops Timetable and Description
is now available online. We are taking enrolments now. (May - June 2018.)