At Paris International Cooking School, we offer a variety of cooking classes and workshops to improve your food knowledge and cooking skills.
We offer:
Regular Cooking Classes
An 8-week cooking class on specific countries or themes such as French Food, Pastry, Greek Food, Italian, ... etc. We provide cooking classes from beginners level to advanced level.
Each student will make his/her own food from preparing to finishing in our Cooking Classes, not just watching us cooking.
Weekend Workshops
A half-day workshop focused on specific subjects such as our popular Knife Skills, Macaron, Charlotte, Egg & Soufflé, Chocolate, Ice Cream & Sorbet, Cocktail Food Workshops, ...etc.
Students are fully involved in our Weekend Workshop, not just watching us cooking.
Short Course (two-hour or 2 1/2-hour short curse)
Either a fun-fill hands-on practical short course OR a fun-filled cooking demonstration and food tasting event. During the Short Course, attendants are encouraged to get involved. There will be food served by the end of the Party event. This is also a great opportunity to ask qualified chef cooking and kitchen related questions.
Corporate Team Buildings
For small group of people (corporate, work groups, associations, bridal and groom parties, baby showers, birthdays, anniversaries and more), and learning to cook together with fun.
All participants are fully involved in making a 5+ course meal, not just sitting there and listen.
We also have special programmes tailored for young generation:
School Group Workshops
A team building workshop for school, college, university and TAFE students.
Teenager's Holiday Workshop
We run a morning and an afternoon one-week (5-day) workshops for teenagers during school term breaks. The morning workshop is general cooking, and the afternoon one is pastry making.
We also provide:
Native Australian Cooking Demonstration and Lunch
Giving the native Australian food a whole new taste.
Sydney Markets and Shops Tour
A guided tour to Sydney wholesale markets and food lover's speciality gourmet stores.
Sydney Tour
for out of town visitors
Special Events
A short fun-filled cooking events. During the event, you will learn a number of recipes and knowledge.
Cooking Demonstrations
We provide cooking demonstrations frequently at Libraries. Feel free to join us at our Cooking Demonstrations. (details)

new

Term 1
2018
Cooking Classes timetable
is now available online. We are now taking enrolments for Term 1 2018. Please see our
Cooking Classes Section
for more information. (
Term 4
2018
starts on Monday 29th January 2018.)

new

Term 1
2018
Weekend Workshops Timetable and Description
is now available online. We are taking enrolments now. (February - March 2018.)

Stay informed with our timetable. Simply
subscribe to our free newsletter
and we well let you know when the new Classes and Weekend Workshops Timetables are available online.

Follow us on Facebook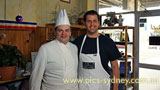 We were proud to have
Jimmy Seervai
-
one of top 6 contestants from MasterChef season 2 (2010)
- here with us during his filming break. He did some quick courses with us, including our popular
Knife Skills Workshop
and
Native Australian Lunch Workshop
.
Jimmy finished as 3rd runner-up in MasterChef 2010. Well done Jimmy!
We are still adding more information regarding our classes and workshops to our website, if you can't find the information you are looking for, please come back again later or simply send us an email or give us a call.