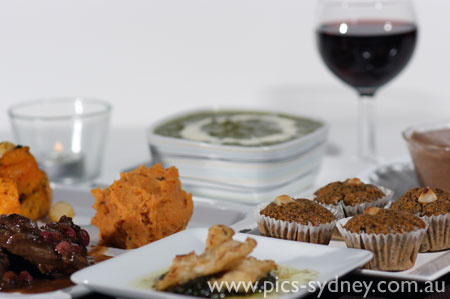 You might have tried Kangaroo and Crocodile meat before, but we don't think you've tasted them in our uniquely delicious style.
Not just dining here, you will be watching the full preparation, getting a set of recipes, as well as receiving informative knowledge on Aboriginal food.
Menu (4-hour)
Appetizer
Akudjura Tomato Soup
Pan Fried Crocodile Fillet on Eucalyptus Pesto
Kangaroo Rump with Riberries Sauce
Kumara Purée and Tasmanian Peppercorn
Roasted Pumpkin with Native Thyme & Macadamia Nuts
Dark Chocolate & Wattle Seed Mousse
Native Honey & Wattle Seed Baby Muffins
Tea, Coffee and Chocolate
Vegetarian Alternative:
Middle Course:
Vegetables and Native Peppermint Quiche
Main-Course:
Vol-au-Vent of Wild Mushrooms and Bush Tomatoes
Price: $130.00 per person (B.Y.O.) Booking is essential.
Recipes may be adjusted due to availability of produces. / Vegetarian alternative is also available on request at time of booking.
All Native Australian Cooking Demonstrations and Lunches are running from 10am to 2pm. The fee is for single demonstration and lunch per person.
If you are interested in Native Australian food, please
book
the demonstration (and lunch) as early as possible.
The demonstration is taught in English, however, we have all recipes available in six additional languages (French, German, Italian, Spanish, Chinese and Japanese), some recipes are also available in additional languages (Thai, Indonesian and Greek).
Native Australian Demonstration and Lunch are available year round, except during NSW school holidays.
enrolment
To enrol into this Native Australian Cooking Demo and Lunch, you can simply
enrol yourself online
with our secure website, give us a call or fill in the
enrolment form
(printed version). (
More information on enrolment
.)
what to bring
This is a cooking demonstration. You don't need to bring anything, just come with empty stomach for lunch. Information about Native Australian Food and recipes will be given during the cooking demonstration.