Greek Cooking Class & Meal (short course)
Want to organise an event fill with fun and useful knowledge?
We offer Greek Food Cooking at affordable price. During the Greek Cooking Class, you (and your friends) will not only enjoy the event, but you will also get more knowledgeable at cooking in general which will make your daily cooking more agreeable and hopefully faster and easier. Don't forget, you will also enjoy generous food tasting at end, that's complementary.
Each Class runs for approximately 2 hours, and during that time we will show you how to cook 4 recipes, you will also take home a cooking booklet with all the recipes (so you can repeat them at home at your leisure).
Our 2hr Greek Cooking Class is mostly cooking demonstration style, however if you wish to participate in a more active way, there will be opportunities to get some practical experience.
Good cooking requires good recipes
(we have them)
, also right tools and equipment.
During the course of the demonstration, we will use a range of the most suitable cooking utensils and knives.
menu: (until 17th November 2019)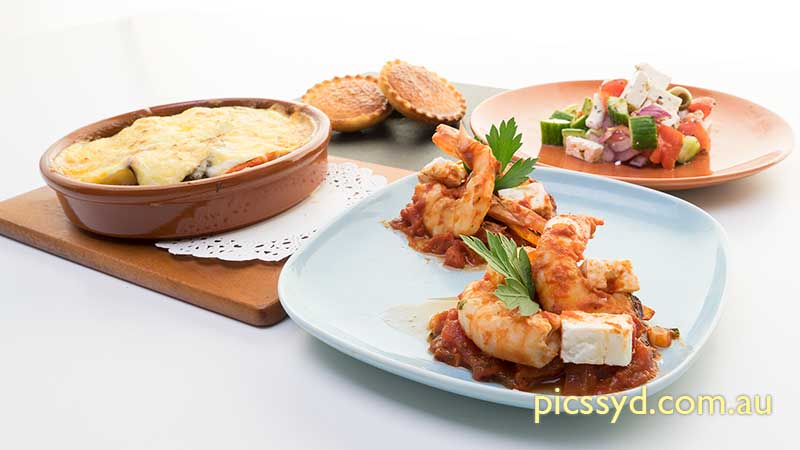 Baked Prawns in Feta and Tomato Sauce
Greek Style Moussaka
Greek Salad
Halvas Pudding (Semolina)
menu: (from 18th November 2019)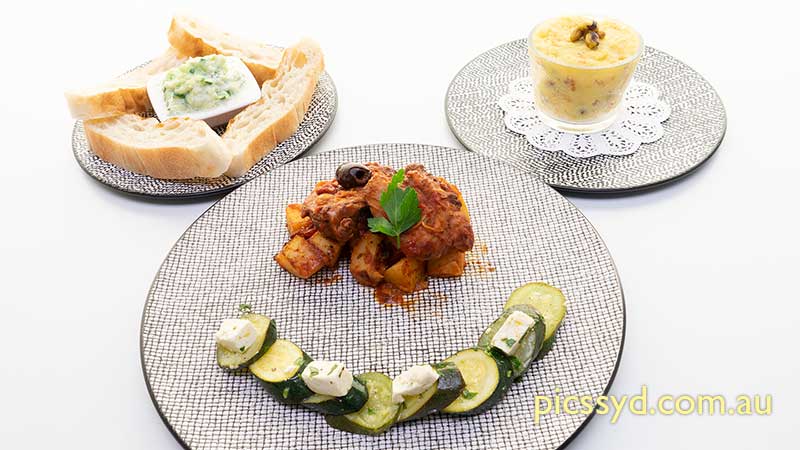 Tzazikis Salad with Crusty Bread
Kotopoulo Stifado (Chicken in Red Wine)
Zucchini Feta Salad
Lemon and Honey Almond Tart
schedules:
Due to unforeseen circumstances, all Term 1 short courses, Classes, Workshops are cancelled. The voucher will be extended by both the deal company and us. We aim to resume classes as soon as we can.
If you wish to request a refund, please contact the voucher company, alternatively, credit for future use at our Cooking School towards courses or retail items. We aim to resume the classes as soon as we can.
We apologise for any inconveniences caused.
We will publish more dates once closer.
Rescheduling of 2-hour Greek Cooking Class & Meal Class (short course) is not possible if notice is given less than 48 hours. Reschedule fee may apply. We appreciate your understanding as we have to reserve your place(s).
Each student will take home a recipe booklet and food made from Greek Cooking Class & Meal Class.
The maximum number of guests for Greek Cooking Class & Meal Class is 8. Minimum number is 4. If the particular date does not reach the minimum required number to run the Short Class, we will contact you and arrange a different date.
Booking
(at least two days in advance)
is essential.
enrolment
To book yourself into our Greek Cooking Class & Meal, simply click on the Redeem button next to the date and time suitable.
Contact Us if you have any enquiries about this 2hr Short Cooking Class.
looking for more?
We have 8-week fully hands-on practical
Greek and the Greek Islands Cooking Class
(2.5 hours per week, 8 sessions, making three recipes per session from 2nd week).
If you wish to learn more, we offer 5- or 6- hour fully hands-on practical
Weekend Workshop
. What something even more? WE offer 8-week fully hands-on practical
Cooking Classes
(on going).
For regular cooking classes and weekend workshops, please refer to:
We aim to resume those as soon as we can.
We aim to resume those as soon as we can.
(Photo by
Antony S
.)